Bottom line
Amazon's Fire HD 10 remains the most reliable 10-inch tablet you can buy for below $150, with solid performance, good battery life, and a sharp display. Amazon currently offering it at $79.99 only. In this article, I will write on Amazon Fire HD 10 review and why you should have it.
Amazon Fire HD 10 Review – Overall Specifications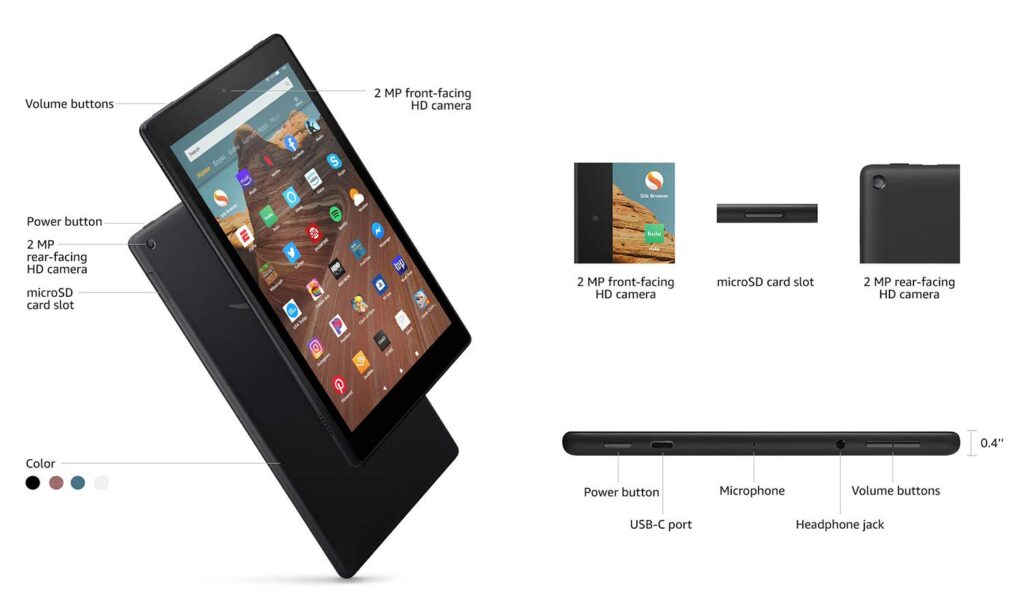 Display: 10.1″ 1080p full HD
Resolution: 1920 x 1200 (224 ppi)
Storage: 32 or 64 GB (expandable by up to 512 GB)
Processor: Octa-core 2.0 GHz
RAM: 2GB
Battery Life: Up to 12 hours
Ports: USB-C (2.0)
Charging Time: 4 hours
Audio: Dual speakers
Dolby Atmos: Yes
Hands-free with Alexa: Yes
Show Mode (full screen Alexa experience): Yes
Warranty and service: 1-year limited warranty
Camera: 2 MP front- and rear-facing
Weight: 17.8 oz (504 g)
Dimensions: 10.3″ x 6.3″ x 0.4″ (262 mm x 159 mm x 9.8 mm)
Amazon Fire HD 10 Review – Who's this for?
The Amazon Fire HD 10 (2019) is for anyone who wants a basic, affordable tablet with a big screen. Especially those invested in the Amazon ecosystem, or who have owned and liked Fire tablets in the past.
Design
The Amazon Fire HD 10 measures 10.3″ x 6.3″ x 0.4″ (262 mm x 159 mm x 9.8 mm) and weighs 504 g.00 grams. Design-wise, it's pretty much a case of same old, same old. It still has enormous thick bezels and chunky matte plastic casing.
Display and Audio
Fire HD 10 is the largest display amongst others Fire HD model. It is equipped with 10.1″ 1080p Full HD with 1920 x 1200 (224 ppi). Watching and streaming videos from Netflix, Youtube, HBOMax, Disney+ etc. give full satisfactions. The quality is quite decent and good enough to comfortably watch for long periods.
The audio is equipped with 'Dolby Atmos' speakers. The audio kind of loud enough in general use, however they don't provide anything close to stereo audio. For me, this is acceptable.
Performance
Now 30% faster thanks to the new 2.0 GHz octa-core processor and 2 GB of RAM. You should expect a decent performance.
It also equipped with 32GB internal storage. Not only that, you may expand to maximum 512GB. For 32GB, it is good enough for normal using. But if you are really into downloading videos, you may expand storage by using MicroSD.
Software
There's very little layout customisation available here. What you get is a series of homescreen-style pages, one for all the bits you have pre-installed and one for each of the main tablet content areas: music, video, book, apps.
Alexa can assist you to connect to the information, entertainment, and people who matter most—with just your voice. Ask to play videos and music, open apps, shop online, check the weather, call or message almost anyone and much more.
If you are regularly depends on Google's app suite, then you are most likely to miss all those apps in this tablet.
Camera
Don't expect decent images or videos captured by the camera. This tablet equipped with only 2MP camera for front and back with no flash.
Image produced is quite blur like being taken from a decade-type tablets. But this is forgivable as it's not photography-oriented tablet. There's nothing techy or special about it.
Battery Life
The camera is quite the deal camera, the battery life is really stunning. It could lasts up to 12 hours from a charge. The charging time will takes about 4 hours to fully charged. Fast Charging charger is not included as default. You may need to choose to include it at additional cost.
Amazon Fire HD 10 Review – Verdict
For the price below $149 (Amazon offers now at $79.99), it is acceptable, affordable and perfectly suite for daily use like streaming and browsing. If you are looking for a tablet just for watching videos, browsing, streaming or reading, I recommend you to get Fire HD 10 tablet. You can get the offered price from Amazon by clicking on below link or click here.
(As an Amazon Associate I earn from qualifying purchases.)